News
April Newsletter

Nat Muller and Raed Yassin, 2012. © Ibraaz.
DISPOSABLE MEMORIES: A CONVERSATION BETWEEN RAED YASSIN AND NAT MULLER
In an exclusive video interview, Nat Muller, curator of the 2012 Abraaj Capital Art Prize (ACAP), talks to recipient artist Raed Yassin about the manipulation of popular culture in his work and his barbed interpretations of historical narratives. Focusing on his new project China, which depicts Lebanese Civil War battle scenes through the medium of Chinese vases, Muller and Yassin discuss issues of mass-production, interpretation and commemoration.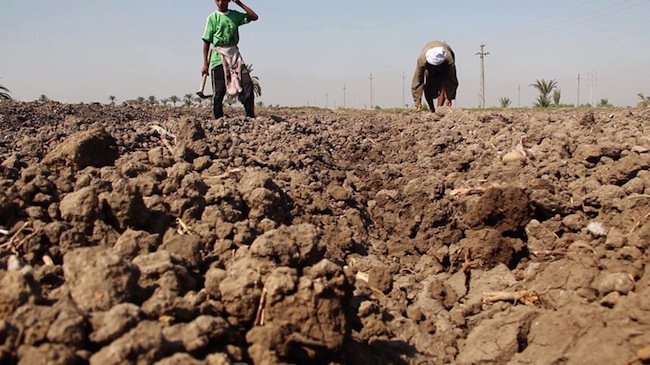 Jasmina Metwaly, Land Without, 2012, still, digital video. Courtesy of the artist.
ACTIVE INTERVENTIONS/ INTERVENING ACTIONS: A CONVERSATION BETWEEN JASMINA METWALY AND ANGELA HARUTYUNYAN
In 2009, artist Jasmina Metwaly moved from her native Poland to Cairo, where she subsequently exhibited at Townhouse Gallery's factory space, and has since then been involved in video activism. In a conversation with Angela Harutyunyan, Metwaly discusses the ambivalence of artistic production in the context of ongoing unrest and responds to what it means to be an artist working with the grammar of activism against the backdrop of post-revolutionary Egypt.
UPCOMING CONTENT

L: Slavs and Tatars, Not Moscow Not Mecca, collage, 40 x 30 cm, 2012. Courtesy of the artists. R: Ziad Antar, Cote d'Azure Hotel, Jnah Beirut, Built in 1973, 2007. Courtesy of Selma Feriani Gallery, London.
On the occasion of Slavs and Tatars' upcoming exhibition Not Moscow Not Mecca, opening on the 3rd of May at Secession in Vienna, Ibraaz will publish an interview as part of its upcoming Platform 003 between the collective and curator Franz Thalmair, which discusses their new cycle of work The Faculty of Substitution.
Also upcoming for Ibraaz Platform 003 is an interview with Ziad Antar conducted by Ibraaz's Editor Anthony Downey, discussing the aesthetics of expiration in the artist's projects, as well as his recently published book, Portrait of a Territory, in which Antar travelled and – whilst considering the restrictions of light and the history of the territory – documented the entire UAE coast-line.
Ibraaz's platform 003, marking its first year of production, will also be launched on 2nd of May 2012. This platform will include essays, interviews and artists' projects from, amongst others, Taysir Batniji, Joana Hadjithomas and Khalil Joreige, Jack Persekian, William Wells, Larissa Sansour, Lara Khaldi, Ghalya Saadawi, Driss Ouadahi, Mohanad Yaqubi, Lawrence Abu Hamdan, Omar Kholeif, Tania El Khoury, Anahita Razmi, Marwa Arsanios, Saba Innab, Isak Berbic, Seher Shah, Sinisa Vlajkovic, and Hanan Toukan. Topics covered in platform 003 include Contemporary Practices in Algeria, the cityscape of Beirut, Occupation and Control in Cyprus, Filmmaking in the Gulf Region, Artists and Revolution, and the role of art communities in the development of civil society.
NEWS

Sharjah Art Foundation's March Meeting, 17 - 19 March 2012. L-R: Louise Hui-Juan Hsu, Michelle Dezember, Murtaza Vali, Amal Khalaf, Abed al Ju'beh; Breakout session with Joe Namy; Premiere of Revisiting Tarab, 2012, conceived and organised by Tarek Atoui.
All images courtesy of Sharjah Art Foundation.
Curator and writer Daniella Rose King reports from the 5th Annual March Meeting, organised by the Sharjah Art Foundation, a three-day event that took place over the 17th to the 19th of March 2012 in Sharjah, UAE.
Social States, an exhibition in collaboration with The Delfina Foundation at the Pump House Gallery, London, opened on the 15th of March 2012, featuring Nadia Kaabi-Linke's work Impunities, which she first discussed with Ibraaz's Associate Editor Lina Lazaar in a December 2011 video interview. In addition, Shezad Dawood's solo exhibition Piercing Brightness, discussed in a video interview with Sara Raza in February, opened on the 4th of April 2012 at Modern Art Oxford.
MIT Press will republish Rabih Mroué's interview with Anthony Downey in its upcoming volume, Memory (MIT: Whitechapel Press, London, 2012). Sara Raza, one of Ibraaz's Contributing Editors, recently curated the exhibition Migrasophia, at Maraya Art Centre, Sharjah, and was inaugurated by Sheikh Khalid bin Saqr Al Qasimi, Chairman of the Sharjah Department of Public Works, in the presence of Sheikha Hoor bint Sultan Al Qasimi, President of the Sharjah Art Foundation, on the 15th of March 2012.
Brute Ornament, an exhibition curated by Ibraaz's Contributing Editor Murtaza Vali, opened on the 19th of March 2012 during Art Dubai at Green Art Gallery. Brute Ornament featured the work of New York-based artists Kamrooz Aram and Seher Shah, elements of which will be published on Ibraaz as part of Platform 003.
ABOUT
Ibraaz is an online publishing forum initiated by the Kamel Lazaar Foundation. Its goal is to publish writing and projects on visual culture in the Middle East and North Africa (MENA).
Ibraaz Platform 003 will be launched in May 2012.