News
Ibraaz August Newsletter
IBRAAZ AUGUST NEWSLETTER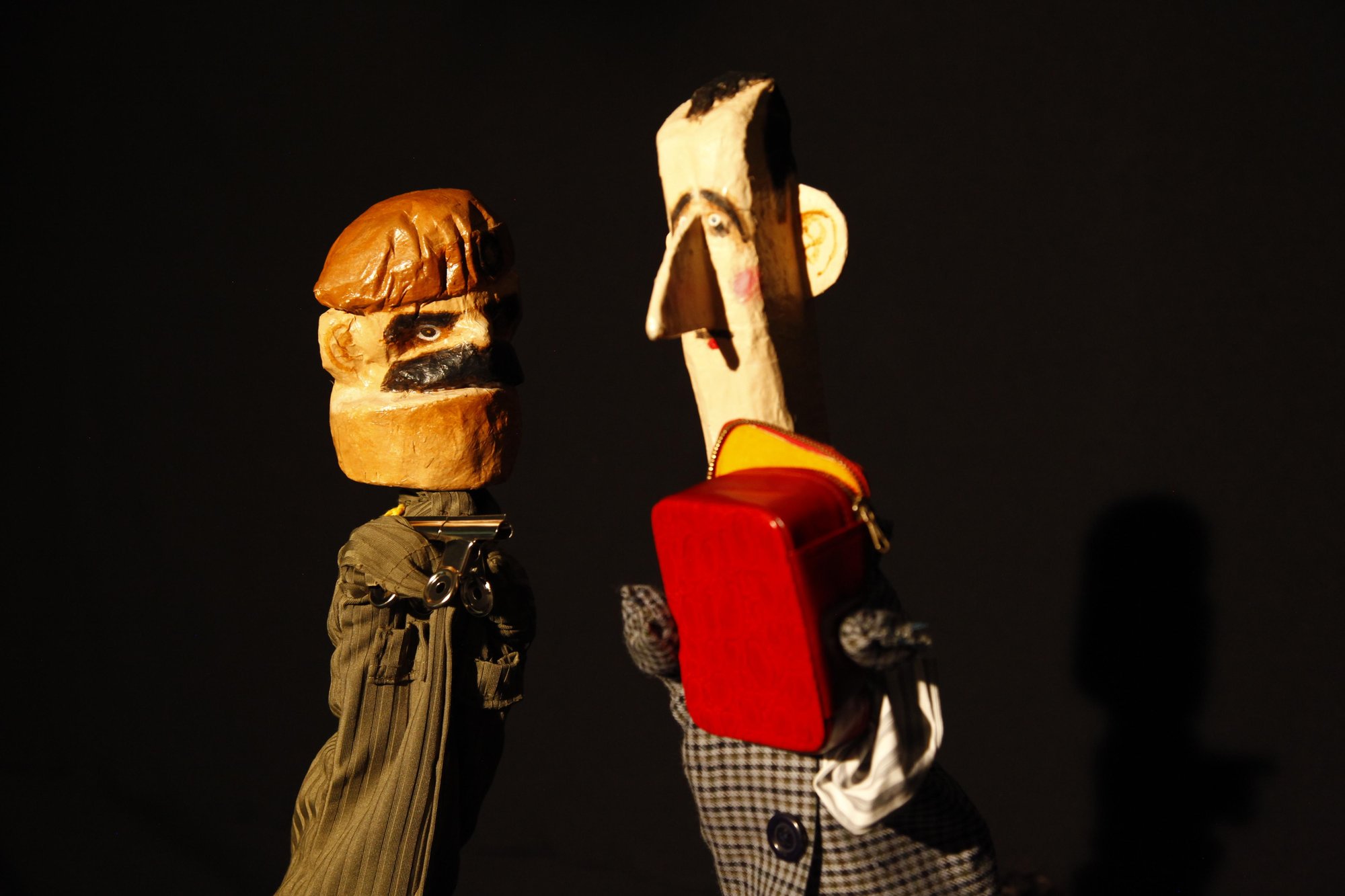 Masasit Mati, Top Goon – Diaries of a Little Dictator Season 2, 2012, still from video. Courtesy of the artists
PROJECTS
For August, Ibraaz has published two videos by the anonymous Syrian group Masasit Mati, a collective of actors and artists who have been voicing their criticisms of the Assad regime with videos of puppet shows uploaded to YouTube entitled Top Goon: Diaries of a Little Dictator. These video works are accompanied by an account from the group's masked director Jameel, both in English and Arabic, with an introductory text by curator Amira Gad.
ESSAYS
Ibraaz is pleased to publish the introduction to Archives, Museums and Collecting Practices in the Modern Arab World, in which editors Sonja Mejcher-Atassi and John Pedro Schwartz outline a number of critical tensions inherent within museum practices of the Arab world. The authors argue that collections require a re-visioning so as to highlight how each and every Arab museum bears the imprint of the many local lives that constitute its shared narrative and visual history.
NEWS

Faten Gaddes, Punching-ball, 2011, installation view at Printemps des Arts, Tunis. Photograph by Adam Le Nevez; Mahmoud Said Museum, Clare Davies, Hawl al- Fann al-Munhat, '(On Degenerate Art): Re-reading al-Risala Newspaper, 1939', during dOCUMENTA (13)'s 'The Cairo Seminar: The Seminar' in Alexandria. Courtesy of Sama Waly and CIRCA; Bahman Jalali, Untitled from the Image of Imagination Series (detail), silver bromide print, Los Angeles County Museum of Art. © Estate of Bahman Jalali
This month, Ibraaz has published a response to the furore that erupted at the end of the Printemps des Arts fair in Tunisia in June, when certain works on display were condemned for defaming Islam, prompting waves of protest, curfews, and even death threats for the artists involved. This response, by Tunisia-based writer and curator Rachida Triki, pieces together the sequence of events, and warns that 'the consequences weigh heavily on us: prejudice and trauma for the artists themselves, but also for young people wishing to become artists'.
Elsewhere, Angela Harutyunyan writes about 'The Cairo Seminar: The Seminar' in Alexandria, a jointly initiated programme between CIRCA (Cairo International Resource Center for Arts) and dOCUMENTA (13), and hosted by MASS Alexandria and the Alexandria Contemporary Arts Forum (ACAF) in Alexandria. Harutyunyan discusses the inherent tensions of presenting such an event outside the context of the original exhibition, discussing the relationship between the local participants and the international practitioners who took part in the event.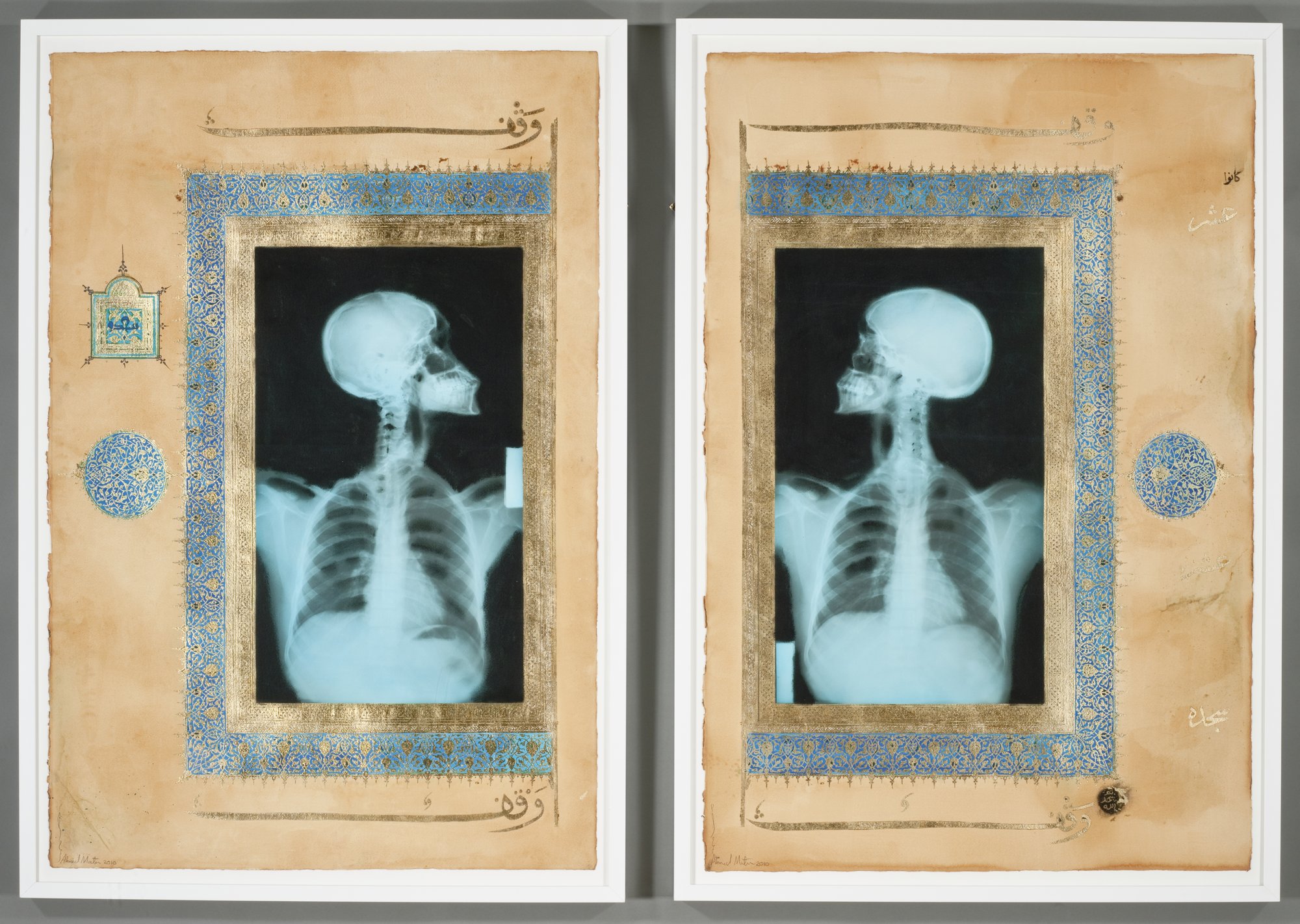 Ahmed Mater, Illumination Diptych (Ottoman Waqf), 2010, gold leaf, tea, pomegranate, Dupont Chinese ink and offset x-ray film print on paper. Los Angeles County Museum of Art, gift of the artist and Edge of Arabia. © Ahmed Mater
Also in News, Ibraaz has published a report on Los Angeles County Museum of Art's collection of contemporary art from the Middle East. Contributing Editor Sara Raza spoke with Linda Komaroff, curator of Islamic art there, about her mission to expand the department's collection of contemporary art from the region.
UPCOMING
Ibraaz is currently commissioning essays and interviews for Platform 004, which will be published in November. The focus of Platform 004 concerns the role of social media and aesthetic practice in the Middle East and North Africa and its relationship to wider social and cultural processes within the region. Ibraaz will publish newly-commissioned content from leading experts in the field of new media, alongside interviews, projects and provocations, in its online platform in November and, in early 2013, a print volume, the latter being the first in a new series of books about visual culture across the region.
In September, Ibraaz will publish an interview with leading Egyptian media art practitioner Shady El Noshokaty, as well as interviews with Bouchra Khalili and Timo Nasseri.