News
Ibraaz September Newsletter
IBRAAZ SEPTEMBER NEWSLETTER
Ibraaz is pleased to announce it is hosting a lecture-performance by Joana Hadjithomas and Khalil Joreige at Rivington Place in London on the 11th of October, in conjunction with the Institute of International Visual Arts (Iniva) and Frieze VIP events.
The lecture-performance Aida, Save Me relates the tale of an incredible adventure through the often unstable and oscillating meanings associated with images, representations, fictions and documents in the Middle East today. Addressing the urgency and constraints that emerge in the use of certain images, it will be followed by a Q&A session chaired by Anthony Downey.
This month, Ibraaz has published three interviews. In the first of these, Dorothea Schoene speaks to Moroccan-French artist Bouchra Khalili about her interest in language and dialect. Focusing on her recent video installation Speeches, in which she worked with people who have experienced migration, Khalili explores what happened when famous writings by authors such as Malcolm X, Abdelkrim El Khattabi and Édouard Glissant were translated into her participants' mother tongues.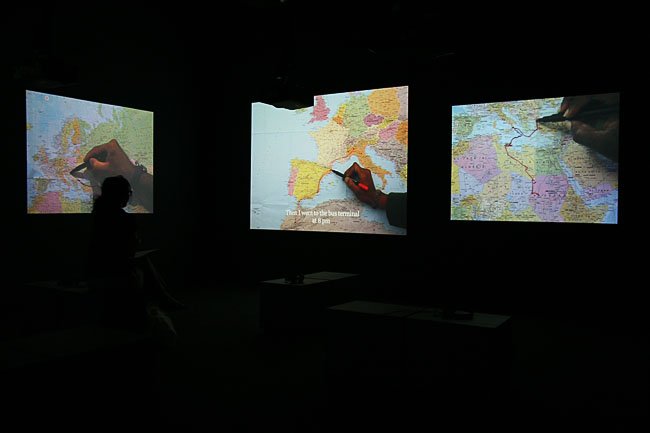 Bouchra Khalili, The Mapping Journey Project, 2008-2011, video installation, 8 single channels, the 10th Sharjah Biennial, 2011. Courtesy of the artist. Photo by Haupt&Binder
Elsewhere, Laura Allsop interviews Berlin-based artist Timo Nasseri about his latest series of drawings, which take a short story by Jorge Luis Borges as their starting point. Nasseri also discusses his interest in Islamic ornamentation, mathematics, and the nomenclature of US and Iranian war machines. Ibraaz also spoke to Belgian artist Tom Bogaert about his numerous projects across the region, specifically his recent work alongside ArtSchool Palestine and his project for a proposed mausoleum for President Bashar Al Assad. And in News, Sheyma Buali discusses the three-session forum at the ICA that initiated Safar: A Journey through Popular Arab Cinema, a week-long series of screenings of classic and contemporary popular Arab cinema.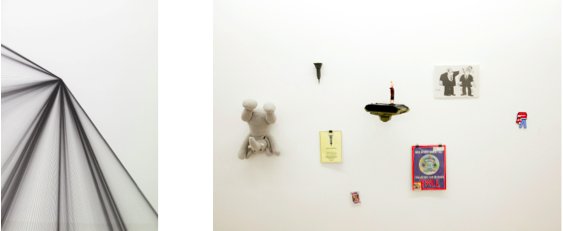 Timo Nasseri, I saw a broken Labyrinth I from the series O Time Thy Pyramids, 2012, ink on paper. Courtesy of the artist; Tom Bogaert, Empire state-building - failed attempts at state-building by imperialistic outsiders, 2012, installation view at Al Hoash Gallery, Jerusalem. © Al Hoash Gallery
Ibraaz is pleased to announce the appointment of Omar Kholeif as its Senior Editor. As a writer, editor, and curator, Omar brings with him a wealth of experience in the visual arts and an extensive knowledge of art in the Middle East and North Africa. Omar is currently Curator at FACT, Liverpool, the UK's national centre for film and new media; Visiting Curator at Cornerhouse, Manchester; Curator at the Arab British Centre, and Director of the UK's Arab Film Festival. Omar writes: 'I am excited to be joining Ibraaz Publishing at this pivotal point in its development'. For a full biography, please click here.
Ibraaz is also pleased to announce the appointment of Hydar Dewachi as its Online Content Manager. Hydar is a photographer, artist and engineer based in London who has worked for over ten years in the fields of creative technology. He will be overseeing the development of Ibraaz version 2.0, which is due to launch in October 2012.