News
January Newsletter
INTERVIEWS
Lost in Narration: A conversation between Rabih Mroué and Anthony Downey
On the occasion of Rabih Mroué's US debut at PS122's COIL Festival in New York, Ibraaz publishes an exclusive interview with the Beirut-based artist about his new 'lecture-performance' The Pixelated Revolution, a work which examines the production of images in the context of the Syrian revolution. Exploring his cross-disciplinary practice and the use of 'found' images, the artist, as he puts it in this interview, endeavours to 'de-sacralise' the image rather than simply produce more imagery. A central component in this process, Mroué explains, is an exploration of how narrative – through elision, selection and rhetoric – functions as a device for inflecting and refracting realities.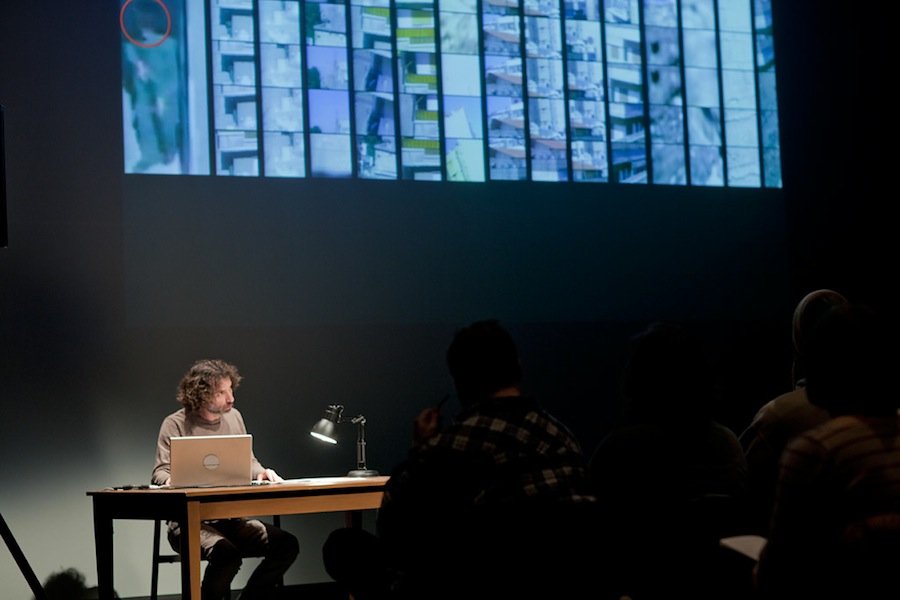 Rabih Mroué, The Pixelated Revolution, 14th January 2012, lecture-performance. Courtesy Walker Art Center. Photograph by Cameron Wittig.
PROJECTS
40 Years of Running on the Same Spot: A Libyan Diary (Part III)
Ibraaz is pleased to present the third installment of Libyan artist and ceramicist Hadia Gana's diary, which she has been keeping since the revolution in Libya began in 2011. Moving on from the drama and turmoil of the last few months, which saw the dramatic death of Muammar Gaddafi and the capture of his son Saif, Gana's latest entry, which covers the months of November and December 2011, charts her and others' efforts to promote culture, environmental awareness and women's issues in post-conflict Libya.
Hadia Gana, We still have some work to do, 2011, photograph. Courtesy and © the artist.
UPCOMING CONTENT
In anticipation of his show at Modern Art Oxford opening in April 2012, Ibraaz will publish an interview with Shezad Dawood. Ibraaz will also be in conversation with Christine Tohme, who will be discussing the recent launch of Homeworks in Beirut.

L-R: Shezad Dawood in his studio, 2012. Courtesy and © Ibraaz; Christine Tohme at the launch of Homeworks, Beirut, 2011. Courtesy Christine Tohme. © Ibraaz.
NEWS
On the 12th and 13th of January, Ibraaz attended the Art & Patronage Summit in London, which brought together leading cultural practitioners, collectors, patrons, curators, and academics, including Aaron Cezar, Bassam el Baroni, Livia Alexander, Zineb Sedira, Chris Dercon, Zeynep Oz, Mona Khazindar, Bayan Kanoo, Moukhtar Kocache, Haig Aivazian, Antonia Carver, Jude Kelly, Kaelen Wilson-Goldie, and Yto Barrada. The summit's ambition was to discuss and develop support for artists and arts institutions in the wider Middle East. Ibraaz's Editor Anthony Downey gave a talk on day two at the Royal College of Art that examined knowledge and patronage in the context of developing the institutions of civil society. Whilst Murtaza Vali, one of Ibraaz's contributing editors, spoke about censorship and curatorial practices in the region. Detailed coverage and footage will be published on Ibraaz next month.

Art & Patronage Summit, 12th-13th January 2012, British Museum and Royal College of Art, London. Courtesy of Art & Patronage Summit.
ABOUT
Ibraaz is an online publishing forum initiated by the Kamel Lazaar Foundation. Its primary goal is to publish writing and projects on visual culture in the Middle East and North Africa (MENA).
Ibraaz Platform 003 will be launched in May 2012 and Ibraaz's Platform 003 Question announced in our February Newsletter.