News
December Newsletter

Nadia Kaabi-Linke in conversation with Lina Lazaar, 2011. Courtesy and © Ibraaz.
INTERVIEWS
In an exclusive video interview, artist Nadia Kaabi-Linke discusses her practice with Ibraaz's Associate Editor Lina Lazaar. Kaabi-Linke presented the 2011 work Flying Carpets for the exhibition The Future of a Promise during the 54th Venice Biennale, which provides a starting point in the interview for a deeper exploration of the artist's interests in tracing elided histories and submerged voices. The artist also discusses a new project she is developing as artist-in-residence at The Delfina Foundation, London.
To accompany our recently published interview, Restaging the (Objective) Violence of Images: Reza Aramesh in Conversation with Anthony Downey, Ibraaz has produced a video documenting Aramesh's recent exhibition, Them Who Dwell on the Earth, at One Marylebone, London. The video includes images of source material for Aramesh's work and extensive footage of his show in London.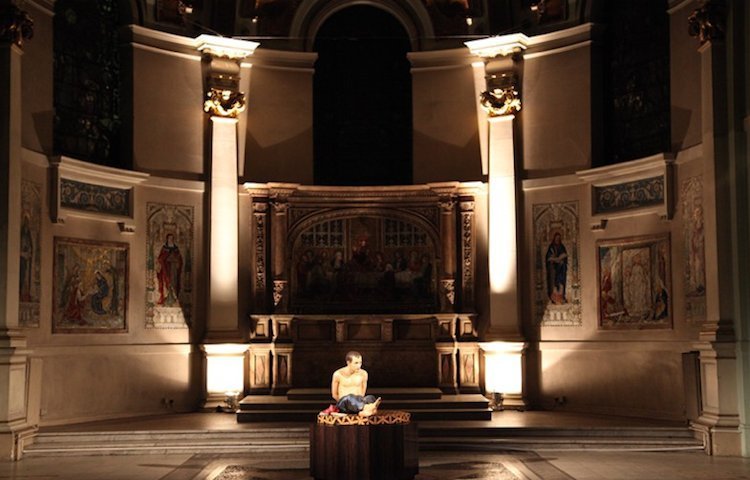 Reza Aramesh, Them Who Dwell on the Earth, 2011, installation detail. Courtesy of the artist and Mottahedan Projects.
PROJECTS
Ibraaz is pleased to publish the latest installment of Libyan artist and ceramicist Hadia Gana's diary, which she kept throughout the recent conflict in Libya. In this latest missive, Gana discusses the efforts to rebuild her country and her plans to build an arts centre in Tripoli. All the while, her account is peppered with reactions to current events, such as the dramatic arrests of Saif Gaddafi and Abdullah al-Senussi.

Amazigh demonstration, Tripoli, September 2011. Photograph courtesy and © Hadia Gana.
NEWS
Ibraaz would like to congratulate Dalia Khamissy, whose photo-film Open Eye: Lebanon's Missing, produced by Benjamin Chesterton for the BBC, was shortlisted for the web photojournalism category for the Prix Bayeaux-Calvados. Her Missing project, featured in Ibraaz Platform 001, was commended for the Freedom to Create Prize, alongside Manal Al-Dowayan's The Future of a Promise 2011 installation Suspended Together, and Wafaa Bilal's 2007 work Domestic Tension, discussed in his interview Performing Histories with Sara Raza.

L to R: Manal Al-Dowayan, Suspended Together, 2011, installation view; Dalia Khamissy, Missing 9, from the Missing series, 2010-ongoing; Wafaa Bilal, Domestic Tension (performance detail #4), 2007.
ABOUT
Ibraaz is an on-line research forum dedicated to exploring visual culture in the Middle East and North Africa.
Ibraaz Platform 003 will be launched in May 2012 with news of our next platform question being circulated in January 2012. Details of our October 2012 conference will be posted in the New Year.
Ibraaz will be present at the Art and Patronage Summit at the British Museum, London, 12 - 13 January 2012.