Platform for discussion002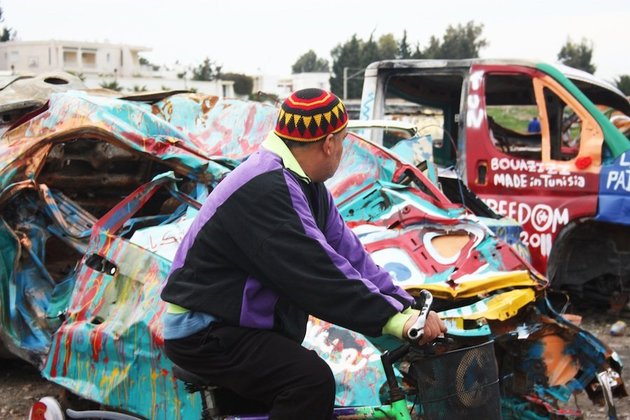 By bicycle, he travels the roads and the districts searching for an answer to his many questions. He is a man, Tunisian, Arab, Berber and a native with roots in the Maghreb, Africa, the Middle East ... He is of this Earth and these oceans.
He stops before several colourful carcasses of burnt-out cars, abused by an angry group of youths during the Tunisian Revolution. The moment generates a new creative breath. It is unique and favourable to a beginning. For him, public space is the only real and efficient outlet for contemporary creation. The cultural players of this region must rally to guarantee the emergence and development of Arab art onto today's stage. The artist owes an inventive posture and depth of creation. The era of intimidation by dictators is over. Now is the time for the foundation of new concepts and new structures.
Our man on his bicycle views this moment with joy and hope, and from one country to another, his hope is shared. He asks artists to pull themselves out of their troubles. He tells them: you are our enduring hope, with your ideas and relevance.
What is a platform?
A platform is a space for speaking in public. It is an opportunity to express ideas and thoughts. It also suggests the formal declaration of a stance or position on any given subject.

Unique to Ibraaz is a 'platform', a question put to writers, thinkers and artists about an issue relevant to the MENA region. This platform is sent to respondents both within and beyond the MENA region and contributions will be archived every 12 months.